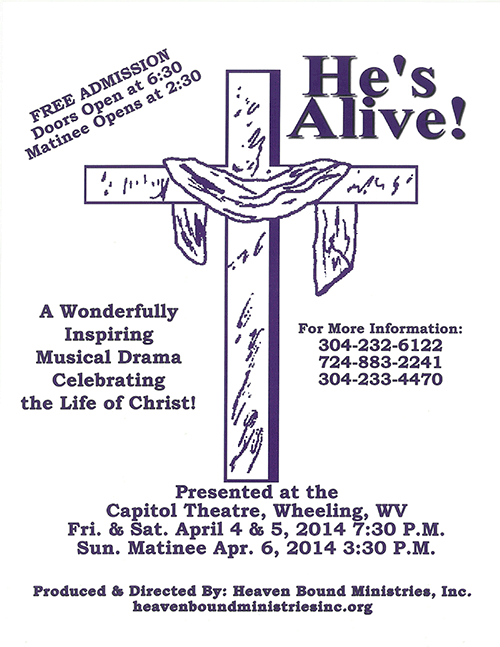 The musical Easter Passion Play, "He's Alive!" is back! He's Alive!, the acclaimed musical drama returns to the Capitol Theater in Wheeling, April 4th through 6th. This inspiring musical celebrates the life, death and resurrection of Jesus Christ.
The 200 plus, member cast and crew invite you to come and celebrate this Easter Season with them. Nearly half of this talented group hails from Greene County, Pennsylvania with the remainder representing the tri-state area.
Heaven Bound Ministries, the organizing group, was founded in 1999 in Wheeling, WV after entertaining at a mother-daughter banquet by a trio of ladies, Brenda Hetzel, Jeannie Pierce Waychoff and Doris Estep. Over the years, Heaven Bound has expanded from a trio of singers to this amazing group of vocalists, actors, musicians and crew. They are also responsible for entertaining Greene County over the last few years with their July 4th concerts at the Greene County Fairgrounds and a special 9/11 tribute concert.
Bus transportation from Waynesburg will be available on Saturday, April 5th. The bus will leave from the parking lot to the right of Big Lots in Waynesburg at 5:00p.m. for the 7:30 performance. The cost is $15.00 per person. Reservations must be made by Monday, March 24th by calling 724-499-5755.
Make plans now to watch the scriptures come to life on stage on Friday April 4th and Saturday, April 5th at 7:30pm and Sunday, April 6th at 3:30pm. Admission is free and seating is first come. Doors will open one hour before each performance. For more information call 304-233-4470 or 724-883-2241.